CASE STUDY

Centek centralizers are re-run in Rajastan, India

3 out 5 competitor centralizers are lost down hole whilst 139 Centek S2® centralizers come out of hole undamaged and are re-run.

THE CHALLENGE

Due to a hole stability issue in a land operation in India the 7in casing, inside 8.5in hole, was pulled. 5 non-Centek bow spring centralizers were used on the shoe track whilst 139 Centek S2 centralizers were used in the open hole.

THE RESULT

Out of the 5 competitor bow spring centralizers 3 were lost in the hole. All 139 Centek S2 centralizers came out of the hole intact and undamaged and were successfully re-run.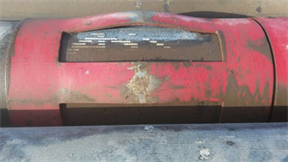 The Centek S2 single piece construction gives it robustness and strength which exceeds that of competitor products. Although Centek does not recommend the re-use of centralizers after they have been pulled out of hole this case study proves that, even when subjected to extreme stresses, the unique design of Centek centralizers meant that they remained in good condition and could be re-run. 
---
---