OBH Mechanical Hinged Bow Spring Centralizer
The OBH non-welded, mechanical, bow spring centralizer with hinge is designed for vertical, slightly deviated and less challenging wellbores.
High performance is combined with the easy field assembly. As it can be nested on a pallet, the OBH provides up to 30% lower delivery and storage costs compared to a non-hinged centralizer.
The bow springs are manufactured from high quality alloy steel, hot bent to shape using dies and then heat treated under controlled temperature and time cycles for consistent spring characteristics.
Features and benefits:
Designed to exceed API 10D

Extended profile

Easy field assembly
Targeted applications
Onshore

Vertical and slightly deviated wells

Reach <10,000 ft

Build rates of < 10 degrees / 100'

Applications where slip-on centralizer can't be use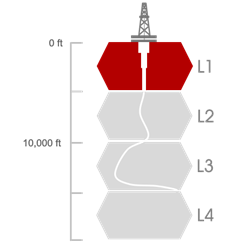 Stop collars
A redesigned stop collar has been developed using the same technology. Holding forces are comparable to Centek's industry leading single piece stop collar range
Performance ratings
Centralization and the ease of running casing is often a balance between strength and flexibility which combine to support, what we call, 'runability'. To help with product selection we've added a rating to all our products for flexibility, runability and inherent strength.

Sizing
From 4 1/2 to 20"
For more information talk to our Product Service Experts today or use our Product Selector Tool to find the right product for your application.