UROS Offset Bow Spring Centralizer
The UROS is a unique, radically designed, offset bow centralizer offering reduced start and running forces in wells with under reamed sections where the main consideration is passage through previous set casing and expansion into the open-hole section.
The UROS is a robust, ultra-high-strength, single-piece bow spring centralizer with no weak points. Its engineered strength and flexibility allow it to pass through tight annular restrictions while absorbing both axial and radial loading.
The UROS demonstrates >50% reduction on starting forces and running forces compared to traditional under ream products.
Under-reamed sections
Under reamed well sections create a number of engineering issues which affect the RIH performance due to the bows being 'compressed' while passing through smaller ID of the previous set casing.
The UROS is engineered to significantly reduce starting and running forces associated with under reamed well sections. Returning to gauge enhances RIH, stand-off and successful zonal isolation.
Targeted applications
Under-reamed well sections

Tight annular applications

Offshore and deep-water

Highly deviated wells
Horizontal/ERD wells
S-Type/J-Type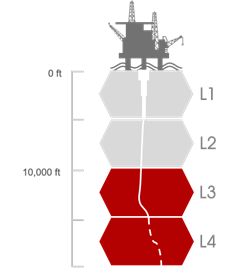 Stop collar
The UROS is available with a high performance stop collar.
Performance ratings
Centralization and the ease of running casing is often a balance between strength and flexibility which combine to support, what we call, 'runability'. To help with product selection we've added a rating to all our products for flexibility, runability and inherent strength.

Sizing
UROS centralizers are available in sizes from 7 to 16"
For more information talk to our Global Sales team today or use our Product Selector Tool to find the right product for your application