OBH-W welded hinged Bow Spring Centralizer
The OBH-W is a hinged, welded, bow spring centralizer designed with a new hinge that tests stronger than competitors.
The OBH-W hinged centralizer features heat-treated, spring-steel bows which are welded to rigid high strength end bands for optimized stand-off in less challenging wells.
The OBH-W utilizes Centek's unique metallurgy and heat treatment process to develop strength and flexibility. Minimal start and running forces ease the casing to TD.
Tested to meet our high quality assurance standards, the OBH-W centralizer consistently provides superior performance.
The integrated hinge has been developed for quick installation and with the axial load strength of our OBW non-hinged product.
It is designed for onshore, vertical and slightly deviated applications where an economic solution is preferred but performance is expected. An economical choice, the OBH-W can be used over casing couplings to remove the need for stop collars.
As with Centek's other hinged products, the OBH-W can be nested on a pallet, taking up to 66% less space than its non-hinged counterpart. This can reduce transportation and storage costs by up to 30%. In addition, the unique integrated hinge ensures a quick installation process.
Features and benefits
Designed to exceed API 10D

Can be used over casing couplings

Good centralization in less challenging wells

Economic choice / high performance

Unique, high strength hinge
Targeted applications
Vertical wells

Slightly deviated sections of the wellbore

Onshore

Applications where slip-on centralizer can't be used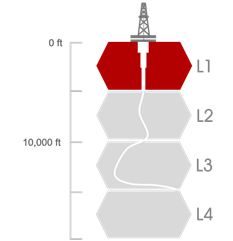 Stop collars
The OBH-W has a corresponding range of high strength hinged stop collars.
Performance ratings
Centralization and the ease of running casing is often a balance between strength and flexibility which combine to support, what we call, 'runability'. To help with product selection we've added a rating to all our products for flexibility, runability and inherent strength.

Sizing
Available to suit casing sizes ranging from 4 1/2" to 26".
For more information talk to our Product Service Experts today or use our Product Selector Tool to find the right product for your application.