CASE STUDY

UROS-CT proves to be best solution for tight tolerances in the North Sea

THE CHALLENGE

As part of slot recovery and redrill on a North Sea field, the operator needed 9 7/8", 62.8#, P110, Vam SLIJ-II (8.5" special drift) full string to 2678mMDBRT. Inclination was from 0deg to 72deg max. The centralizers needed to pass through 13 3/8", 72#, L80 New Vam (existing casing) to 600mMDBRT and then through 11 3/4", 60#, P110, TSH W523 (10.625" special drift) liner to the 11 3/4" shoe at 1281mMDBRT. They then needed to continue in the open hole to TD.

THE SOLUTION

The Drilling Engineer ran a total of 140 UROS-CT centralizers (9 7/8" x 11 3/4") in combination with Protech bonded stop collars (8mm blades) with a mixture of 1 and 2 centralizers per joint.

THE RESULT

No issues were seen during onshore installation of the centralizers. The operator successfully ran the casing to depth with no problems. Running forces matched T&D model and the cement job went as planned, delivering all annular isolation objectives. Casing was ran through a salt diapir consisting predominantly of halite with polyhalite stringers and anhydrite caprock at TD.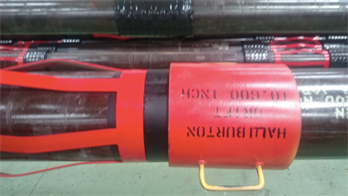 CUSTOMER TESTIMONIAL
"Due to the tight tolerances and casing specifications, the UROS –CT was modelled. The simulations ran confirmed this was the best solution for the task at hand. Excellent technical support coupled with no downhole issues meant another positive outcome using Centek."

Customer
---
---