OSN Solid Body Centralizer
OSN centralizers are high strength solid products suitable for less demanding wells.
Made from solid steel with pressed and welded vanes, the OSN function like a bearing during pipe rotation and helps to reduce torque requirements.
Available with straight vanes or right-handed, spiral vanes. The spiral model has a 360-degree vane design that induces turbulent flow increasing displacement efficiency and supporting cementing best practices.
Feature and benefits
Centek QA

High axial load strength

Straight and right-hand spiral vane designs available to maximize fluid dynamics

Steel construction provides superior toughness
Targeted applications
Vertical and horizontal wells

Onshore and select offshore wells

Reach <10,000 ft

Build rates of <10 degrees /100'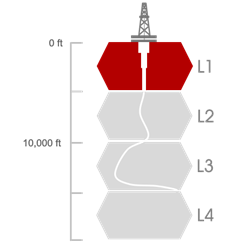 Stop collars
The OSN is available with a range of high strength stop collars
Performance ratings
Centralization and the ease of running casing is often a balance between strength and flexibility which combine to support, what we call, 'runability'. To help with product selection we've added a rating to all our products for flexibility, runability and inherent strength.

Sizing
The OSN solid body centralizer is available to suit casing sizes ranging from 4 1/2 to 13 3/8"
For more information talk to our Product Service Experts today or use our Product Selector Tool to find the right product for your application.