OSN Solid Body Centralizer
OSN centralizers are a high strength solid product suitable for less demanding wells.
Made from solid steel, the OSN functions like a bearing during pipe rotation and helps to reduce torque requirements. It is available with straight or spiral vanes. 
The spiral model has a 360-degree right handed vane design that induces turbulent flow supporting cementing best practices.
Feature and benefits
High axial load strength

360O vane design

Steel construction provides superior toughness
Targeted applications
Vertical and horizontal wells

Onshore

Reach <10,000 ft

Build rates of < 10 degrees /100'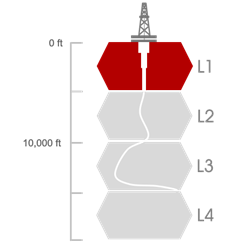 Stop collars
The OSN is available with a range of high strength stop collars
Performance ratings
Centralization and the ease of running casing is often a balance between strength and flexibility which combine to support, what we call, 'runability'. To help with product selection we've added a rating to all our products for flexibility, runability and inherent strength.

Sizing
Available to suit casing sizes ranging from 4 1/2 to 18 5/8"
For more information talk to our Global Sales team today or use our Product Selector Tool to find the right product for your application