TUR Bow Spring Centralizer
The TUR bow spring centralizer is designed to be run in under-ream applications found in some of the world's most challenging offshore fields.
The TUR centralizer is proven to give good cementation in tight casing and close tolerance applications. Large flow by area enhances fluid dynamics.
Features and benefits
Low starting forces

Reduced running forces - saves time

Application specific restoring force
Targeted applications
Under-reamed wells sections

Offshore and deepwater

Highly deviated wells
Horizontal/ERD wells
Vertical wash out sections
S-Type/J-Type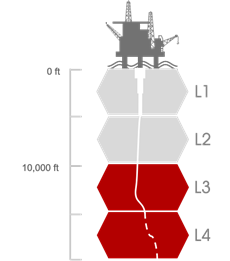 Stop collar
The TUR is available with a high-performance stop collar.
Performance ratings
Centralization and the ease of running casing is often a balance between strength and flexibility which combine to support, what we call, 'runability'. To help with product selection we've added a rating to all our products for flexibility, runability and inherent strength.

Size Range
Centek TUR centralizers are available in 4 1/2 to 16"
For more information talk to our Product Service Experts today or use our Product Selector Tool to find the right product for your application.