OBS Bow Spring Centralizer
The OBS single piece, bow spring centralizer has been reintroduced for onshore vertical, horizontal or deviated wells
The OBS is designed to be robust in tough casing running environments. It is shorter compared to the premium Centek S2 but maintains a high restoring force to meet the needs of most well designs. Its single piece construction provides strength downhole, while the proprietary heat treatment process gives the bows flexibility.
Features and benefits
Good standoff

High restoring force

Exceeds API 10D version 7
Targeted applications
Onshore

Vertical, deviated and horizontal wells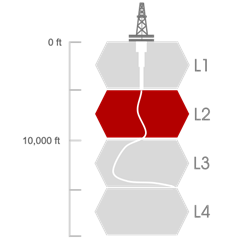 Performance ratings
Centralization and the ease of running casing is often a balance between strength and flexibility which combine to support, what we call, 'runability'. To help with product selection we've added a rating to all our products for flexibility, runability and inherent strength.

Sizing
OBS centralizers are available in sizes from 4 1/2" to 10 3/4".
For more information talk to our Product Service Experts today or use our Product Selector Tool to find the right product for your application