S2 Hinged Bow Spring Centralizer
The NEW S2 Hinged centralizer is a high strength, two-piece centralizer engineered for challenging applications typically requiring a single piece product.
NEW S2 Hinged centralizer
The redesigned Centek S2 Hinged centralizer has a unique twisted hinge. The hinge is engineered to be stronger, lower profile, and has a distinctive one-way hinge pin for safety and ease of installation. It has the performance of our industry leading S2 with the added benefit of up to 30% lower transport, storage and installation costs.
In comparison testing the S2 Hinged centralizer was found to have the strength and integrity of the single piece S2 and OBS. In side by side competitor testing on the same sized single piece products, the S2 Hinged product withstood a 33% higher load.
Our quick fit hinge pins mean that in time trials our hinged product could be fitted in the same time as a slip-on centralizer. One hinge is pre-pinned before shipment so the centralizer can be placed onto the casing and only one hinge needs to be secured.
Features and benefits
Unique high strength hinge and hinge pin design – as strong as a single piece centralizer

Safe and quick installation

Can be transported on pipe, installed on the pipe rack or rig floor without damaging product

Minimized "carbon footprint" reduces cost of transport and storage

Made to gauge - no start or running forces

High stand-off ratios enhance zonal isolation
Target applications
Land, offshore and deepwater

Highly deviated wells

Wells with long lateral runs

Extended reach ≥ 10,000 ft

Build rates of ≥ 10 degrees / 100'

Applications where slip-on centralizer can't be used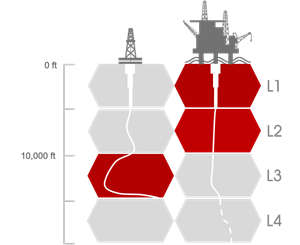 [These units are not designed to fit over stop collars or casing collars. Installing over collars limits performance and could result in damage]
NEW Hinged stop collar
A redesigned stop collar has been developed using the same technology. Holding forces are comparable to Centek's industry leading single piece stop collar range.
Performance ratings
Centralization and the ease of running casing is often a balance between strength and flexibility which combine to support, what we call, 'runability'. To help with product selection we've added a rating to all our products for flexibility, runability and inherent strength.

Sizing
Available from 5 1/2 to 24"
For more information talk to our Global Sales team today or use our Product Selector Tool to find the right product for your application