CASE STUDY

CENTEK S2 PERFORMS AFTER FAILURE WITH ZINC ALLOY SOLID BODY CENTRALIZERS FOR END USER

THE CHALLENGE

This offshore well in North East Java had a high inclination of up to 70deg to total depth. Washout intervals created restrictions for the casing to pass through. The customer needed a solution to aid cement placement and to achieve acceptable zonal isolation for future production.

The customer initially ran casing with a zinc alloy solid body centralizers from a different supplier. During the initial run the casing was pulled out of hole (POOH) as the customer planned to clean the bottom hole assembly to clear out the ledges/restrictions. During POOH, the casing got stuck due to casing parting near the reamer shoe connection and the solid body centralizers and stop collars broke up and were lost downhole.

The fishing retrieval was unsuccessful and 19 pieces of 9 5/8 x 12 1/4" solid body centralizers and stop collars were left downhole. In consequence, this hole was abandoned, and the customer instead did a sidetrack.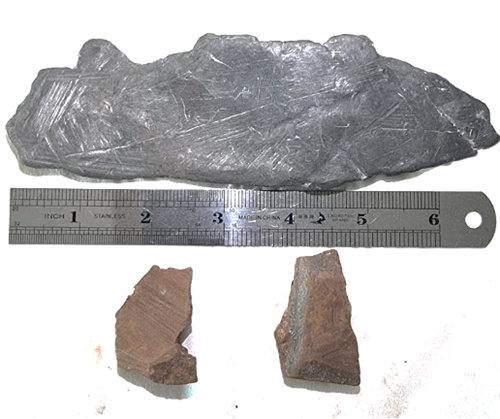 [Pieces of the solid body centralizers and stop collars which were retrieved during the fishing expedition]
THE SOLUTION
To avoid any further costly delays the customer SME recommended the Centek S2 9 5/8 x 12-1/4" single piece bow spring centralizers and 9 5/8" 00SO stop collars. The customer SME chose Centek products as they are well-known for their performance and would be highly suited to mitigating the challenges of the well design. The customer's aim was to deliver an average stand-off of 80% at the HC zone up until previous shoe
With in-country stocking, our suppliers in Indonesia were able to deliver the required number of products in the extremely limited time frame required.
THE RESULT
Simulations run by Centek using their propriety Latload software showed that the S2 provided the required standoff and better flow by area compared to the solid body centralizers. Using the correct type of centralizer, the Centek single piece, bow spring, the customer achieved a good cement job, with no failures.
CUSTOMER TESTIMONIAL
"The side track was run successfully with no issues. We would use Centek products again, this time in the first instance."
Senior Engineer, Indonesia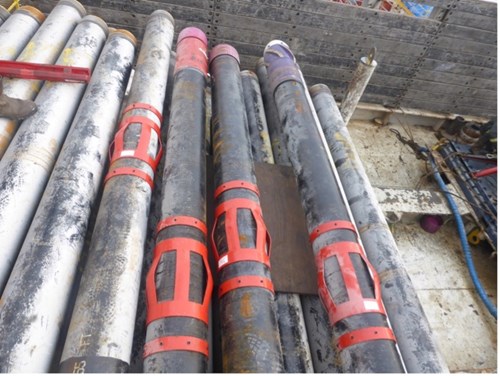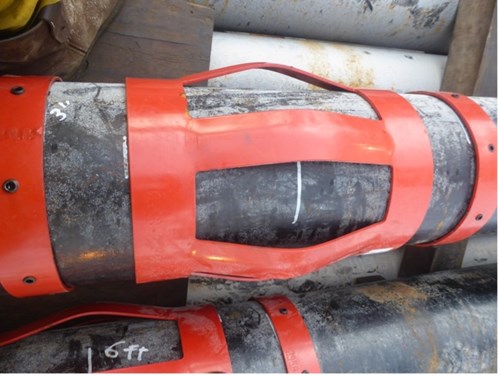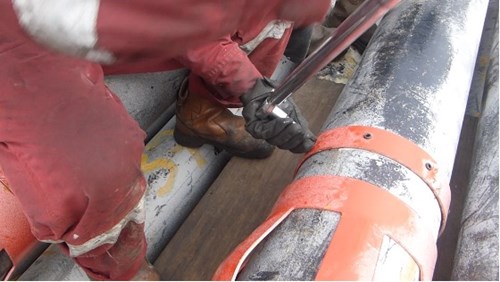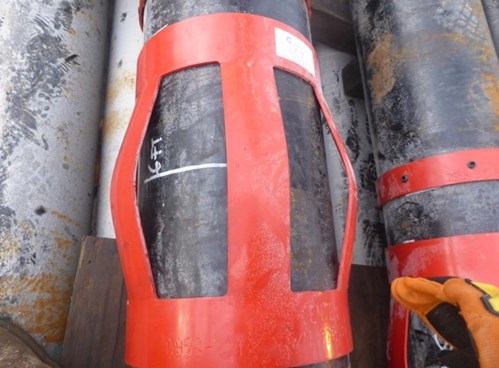 [S2 centralizers and 00SO stop collars installed and ready to go]
---
---