CASE STUDY

Centek UROS undamaged after more than 12 hours of rotation in Norwegian well

THE CHALLENGE

To run 7"-32.0#/ft liner into 8 ½" OH passing through the 8.535" restriction of the 9.5/8 – 53.5 #/ft casing with a TD of 3,600m.

The liner was partially rotated in the open hole on the way in, and it was rotated for approximately 12 hours at 20 rpm in the cased hole on the way out. The centralizers were also run through a whipstock window. The liner was pulled due to hole conditions 40m short of TD.

THE SOLUTION

55 x 7" x 9 ½" Centek UROS

THE RESULT

OWS and the cementers inspected all the centralizers/ collars and the only damage that could be seen was bending of some of the set screw sockets.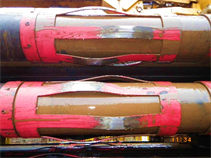 ---
---