NEWS

CENTEK LAUNCHES PIONEERING NEW HINGED PRODUCT

For the past 20 years our aim has been to reduce time and costs downhole. This led to the creation of our ground-breaking single piece centralizer. Now, with transportation costs and storage an increasingly big issue, we have developed a hinged centralizer with the strength of a single piece.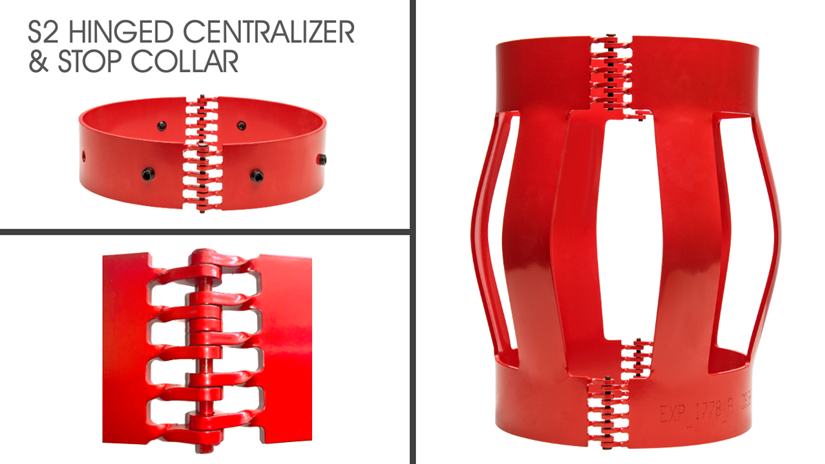 Unlike tier 3 hinged products, which have multiple weak spots and have proven repeatedly to be unsuitable for use in challenging wells, the new S2 hinged centralizer has no weak spots and can be confidently used in the same applications as our S2 single piece centralizer. This includes highly deviated and ERD sections and rotating strings.
What makes our S2 hinged products unique is integral, low profile, twisted hinge. In side by side tests this non-welded hinge proved to be as strong as the join of our single piece centralizers.
In March 2020, two destructive tests were carried out on 3 Centek centralizer products – S2, S2 Hinged and OBS - all 9 5/8 x 12 1/4".
In the axial compression test, the centralizers were placed vertically in our test machine and a load was applied to the top to determine at which load the centralizer would fail. As the bows were compressed, the OD increased and this induced a 'pealing' load in the join which replicated potential failure mode when running in hole. In the burst test a set of expanding tools induced a hoop stress in the centralizer endband. The pressure was increased until failure.
The results of these tests proved that even under extreme conditions the new S2 hinged joint is comparable in strength and integrity to both the single piece S2 and OBS – both already globally recognized as being ultra-strong. In comparison to competitor centralizers the new S2 hinged centralizer's performance is convincing. In tests on the same sized single piece products both the Sledgehammer and DHP products failed at 18,000 lbf compared to 26,855 lbf from the S2 hinged. This is 33% higher.
Because S2 hinged centralizers can be stacked, they take up more than 66% less space on a pallet than single piece centralizers. This means an estimated 30% reduction in transportation and storage costs, lowering the carbon footprints of operators and distributors. 
And the benefits don't end there. Our quick fit hinge pins mean that in time trials our hinged product could be fitted in the same time as a slip-on centralizer. One hinge is pre-pinned before shipment so the centralizer can be placed onto the casing and only one hinge needs to be secured.
The S2 hinged is a tier 1 centralizer and is designed for use in some of the world's most challenging wells. This adaptable solution can be used for most well applications, with installation and storage on rig possible. It is part of our premium range and has a higher flexibility rating than our standard products. Sizing will be available from 5 ½" casing upwards.
The S2 hinge is currently being run in North and South America, Europe and the Middle East. Case studies will soon follow on its performance.
For more information click here or email sales@centekgroup.com
Centek. Enabling safer and more productive access to energy, one well at a time.
---