OPR Mechanical Hinged Positive Stand-off Rigid Centralizer
The OPR is a rigid positive stand-off, non-welded, mechanical, hinged centralizer developed for less challenging wells.
The OPR offers an economical alternative to solid body centralizers in a rigid design that maximizes fluid dynamics and provides optimized stand-off, typical of rigid centralizers.
This non-welded product utilizes mechanically connected ribbed bows and a traditional hinge design for easy installation. 
Features and benefits
Centek QA

Good centralization in less challenging wells 

Economic choice 

Positive stand-off 

Maximizes fluid dynamics
Targeted applications
Vertical wells

Slightly deviated sections of the wellbore

Onshore

Applications where slip-on centralizer can't be used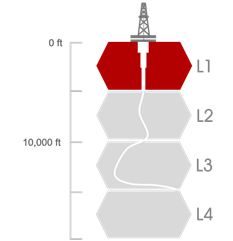 Stop collars
The OPR is available with stop collar developed with the same hinge.
Performance ratings
Centralization and the ease of running casing is often a balance between strength and flexibility which combine to support, what we call, 'runability'. To help with product selection we've added a rating to all our products for flexibility, runability and inherent strength.

Sizing
The OPR mechanical hinged positive stand-off rigid centralizer is available to suit casing sizes ranging from 4 1/2" to 18 5/8".
For more information talk to our Product Service Experts today or use our Product Selector Tool to find the right product for your application.