NEWS

New Centek Centralizer Sub unveiled at OTC Houston 2015

We have unveiled our new Centek Centralizer Sub at OTC 2015, designed to be run as part of a tight tolerance casing string in deepwater, ultra-narrow annulus applications.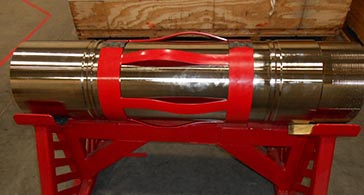 Centek and Halliburton collaborated in developing the Centralizer Sub. The body of the centralizer sub is machined to Centek and Halliburton's exacting standards. Centek's patented UROS-CT centralizer technology is installed on the sub body by Halliburton in a process that complies with the toughest quality control standards. The sub body, manufactured to API 5CT requirements, meets or exceeds all burst, collapse and tensile ratings. The UROS-CT centralizer gives optimum restoring performance with minimal starting and running forces when passing through the tightest restrictions.
Centek appreciates the need for a close tolerance centralizer for use in very tight annulus applications, where the margins between pore pressure and the fracture gradient are narrow. Not only can the UROS centralizer fully compress within the sub body, but the Centek sub has the ability to rotate when fully compressed in the tightest of restrictions with no loss of eccentricity at the end-bands.
The size range is expected to be 7.3/4in through to 18in or as required, and the sub body can be threaded to meet the customer's requirements for the casing string. 
For more information go to Centek Centralizer Sub


---